Many investors want income, but at the same time want to preserve the buying power of their investment capital.
---
JMI has constructed a portfolio that is designed to deliver reasonably predictable growth that can be used to provide a steady income and, depending on the level of income you require, preserve the buying power of your capital.
The income can be paid directly into your bank account. If you want to preserve the original cash value of your investment, you can arrange for a regular withdrawal amount that approximates the return from the portfolio.
Alternatively, you may wish to reduce the income you receive, in which case you can expect to grow your investment funds. Or, you may require a higher level of income, in which case your investment capital will reduce over time. Your adviser will assist you to determine the appropriate level of income for your circumstances.
Like the Selected Conservative, Balanced, Growth and High Growth Portfolios, the Selected Conservative Balanced Income Portfolio is regularly monitored by JMI and re-weighted every calendar quarter, with changes made as fund manager performance and/or investment conditions change.
Minimum investment:
Initial investment: $20,000
Additional investment: $2,000
Regular investment: $500 p.m. 
The asset allocations used in the Selected Portfolios may vary from the benchmark asset allocations because of tactical considerations.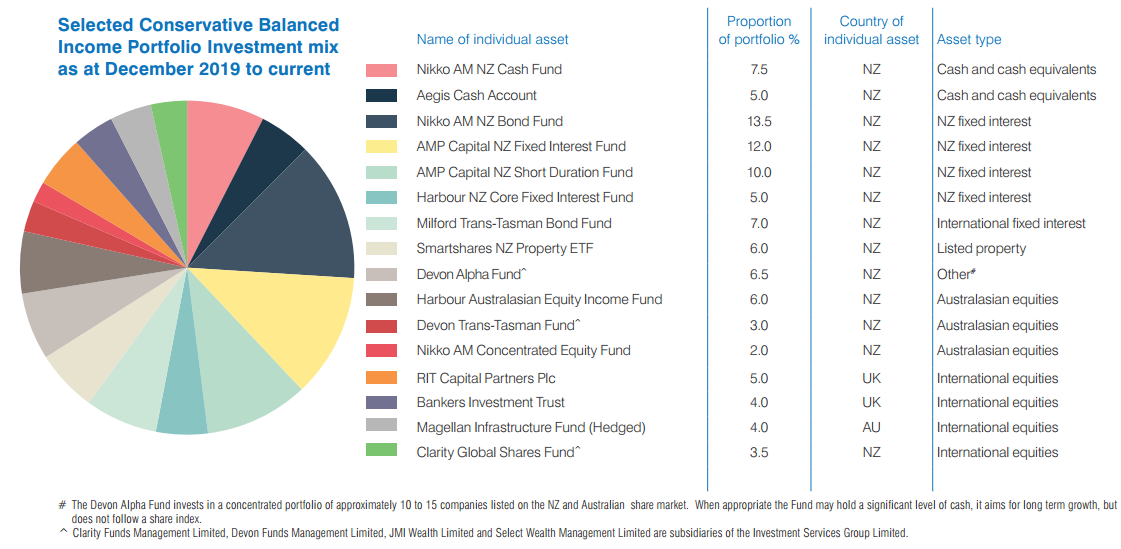 For full details about the Selected Conservative Balanced Income Portfolio please refer to the fact sheet below.
If you would like to view the fact sheets and/or investment statements for the securities in the Selected Conservative Balanced Income Portfolio, please refer to the Custom-Built Portfolios page
.